India Pakistan music festival 'Saanjh 2008' held in Amritsar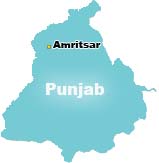 Amritsar, Oct. 20 : Thousands of music lovers converged here on Sunday evening (Oct. 19) to enjoy the musical celebration of Indian and Pakistani culture through "Saanjh 2008", a music festival in its fifth edition this year.

About 35 artists from Pakistan arrived in India for the event on Saturday through Wagah border.
Pakistan's Rafi Peer Theatre Workshop in collaboration with Punarjyot, a non-Government Organisaton, organized the festival, which originally started in 2004. The annual festival is held in India and Pakistan in two phases in Amritsar and Lahore.
The objective was to bring the people Indian and Pakistani Punjab closer.
Over the years the festival has emerged as a small but special endeavour by artists of both the countries to bring people closer to each other culturally and promote brotherhood through music.
This time the festival began with the resounding and thunderous performance by 22 drummers who enthralled the audience with the well-orchestrated presentation. The audience applauded the 10-minute long performance full of exuberance.
"We don''t nurture any hatred for anyone in our hearts. It is only at the political level. I have seen these kind of political developments of the past 60 years, neither India nor Pakistan has benefited out of it. It is just that India being an elder brother, is doing well and there are little problems between the two countries. But people of both the sides have their our own identities and we have to protect them," said Faizaan Peerzada, Director of Rafi group.
The artists of the group, however, lamented that they face hardship in getting Visa despite their objective, which is apolitical.
Indian artists including Lakhwinder Wadali and others won everyone's heart.
Manveen Kaur Sandhu, the Director of Punarjyot, the non-government organisation, in her welcome address said that Punarjyot and Rafi Peer Theatre group intend to achieve and promote a feeling of peaceful coexistence through this festival.
"Whoever comes here to attend this ''Saanjh'' festival'' either in Lahore or in Amritsar, he or she doesn''t come here just to be a part of one such programme or a seminar. He rather comes to spread the message of peace and harmony. Everyone wants peace and I have been seeing this since the past five years that so many people have come and become a part of it," said Manveen Kaur Sandhu.
The event besides musical renditions comprises seminar, theatre presentations or folklore presentation, and theatre artistes that basically promote brotherhood through traditional themes in all performances.
An extension of this musical and cultural extravaganza will take place in New Delhi. (ANI)