Henriques called as cover for injured Lee, Johnson
Submitted by Narinder Hans on Tue, 10/27/2009 - 21:16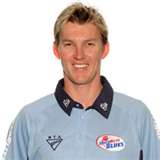 Sydney, Oct 27 : Australian all-rounder Moises Henriques will fly to India as cover for injured pacers Brett Lee and Mitchell Johnson.
Lee (elbow) and Johnson (ankle) are both to be rested from Australia's second one-day international against India in Nagpur Wednesday.
Their injuries are considered relatively minor and they're expected to resume in the seven-match series.
Henriques' call is reward for a sterling performance in New South Wales Blues' title triumph at the inaugural Twenty20 Champions League in India which ended last weekend.
Henriques was equal second leading wicket-taker there with 10 wickets. He has previously played for Australia in one Twenty20 international. (IANS)
Technology Sector