Warne has provided inside knowledge on the Aussies: Smith
Submitted by Mohit Joshi on Wed, 12/17/2008 - 14:34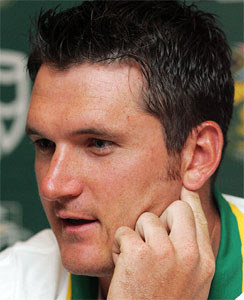 Perth, Dec. 17 : In an explosive claim leading into the first South Africa-Australia Test at the WACA Ground in Perth, South African captain Graeme Smith says Warne has told him how he should go about bringing down Australia''s batting champions Ricky Ponting and Matthew Hayden.
Writing an exclusive column in The Daily Telegraph, Smith reveals he used his stint at the Rajasthan Royals under Warne''s captaincy to gain inside information on Australia''s batsmen.
"I was asking him about Matthew Hayden and Ricky Ponting and he told me how he would try to get them out if he was captain,'''' Smith writes.
"I just hope I still remember his advice.''''
Warne last night laughed off suggestions he had turned informant and given Smith valuable hints on Australia''s senior batsmen.
"We discussed playing against Australia and how South Africa has lacked a bit of flair, losing the big moments in matches against the Aussies,'''' he said.
"(Smith) had some interesting thoughts on how to bowl to Matthew Hayden, Ricky Ponting and company. I just smiled and held my cards close to my chest. But I hear Smithy has now said their plans were mine. I chuckled to myself and thought, the mind games have started.'''' (ANI)
Technology Sector