Steel consumption grows by 0.5% in April-May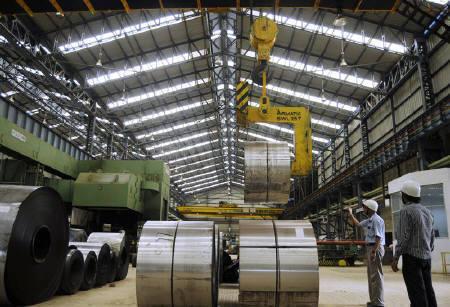 New Delhi: India's steel consumption grew marginally by 0.5 percent during the first two months of the current fiscal to 12.623 million tonnes (MT) over the same period last year.
According to the Joint Plant Committee (JPC), a unit of the Steel Ministry, India had consumed 12.563 MT steel during the April-May period of FY 2013-14.
"Consumption in April and May is less because the government spending on infrastructure has been very less in these two months. In addition, end-use industries are also consuming less steel," a senior official of a private sector steel maker said.
The government's spending on infrastructure is a major source of demand creation for steel and it was understandably less due to general elections, the official said.
The construction sector accounts for around 60 percent of the country's total steel demand while the automobile industry consumes 15 percent.
During the entire 2013-14 fiscal, steel consumption in India grew by just 0.6 percent, its lowest in four years, to 73.93 MT over the previous fiscal.
Meanwhile, domestic production of finished steel during the April-May period of the current fiscal grew to 14.99 MT, registering a 1.9 percent growth over April-May 2013.
Major firms such as SAIL, RINL, Tata Steel, Essar, JSW and JSPL produced 7.54 MT and the rest from mini and other producers.
Exports were up by 21.2 percent during April-May this year to 0.982 MT. Outward shipments in May stood at 0.53 MT.
Imports grew by 18.2 percent to 1.06 MT, JPC said. ---- PTI