Sensex, Nifty Down On Profit Booking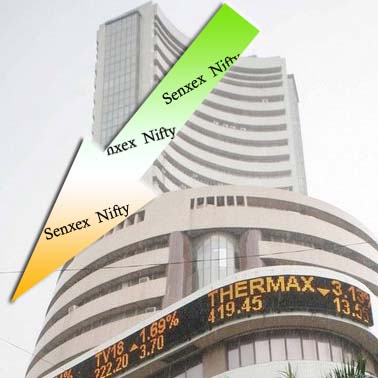 After remaining in the positive zone for two straight sessions, the Bombay Stock Exchange benchmark Sensex, which belled today's session after gaining 50.55 points at 15,517.36, pared all its losses as funds and investors indulged in booking profits at higher levels amid a weak trend in the worldwide markets.
IT and oil & gas stocks remained under pressure while metal space bucked the trend.
According to Religare Securities report, "US markets closed in the red and Asian markets are also negative. China's exports fell by a record 26.4% as the global recession cut demand for goods produced by the world's third-largest economy. Most Asian stocks rose, led by steelmakers and energy companies, on speculation industry profits will improve as the global recovery takes hold. We expect our market to open up but anticipate some heavy selling in the latter part of the day."
The Sensex, which had gained more than 800 points during the last two sessions, fell by 31.82 points at 15,434.99, after touching a high of 15,568.74 and a low of 15,310.64.
The wide-based National Stock Exchange index Nifty was down 7.35 points at 4,647.90 after hitting a high of 4,679.55 and a low of 4,616.85.
"The trend deciding level for the day is 15405 / 4632. If Nifty trades above this level during the first half-an-hour of trade then we may witness a further rally up to 15642 – 15818 / 4712 - 4769. However, if Nifty trades below 15405 / 4632 for the first half-an-hour of trade then it may correct up to 15230 / 4575," said Angel Broking note.
Stock brokers stated that emergence of profit-booking by funds as well as retail investors after Sensex hit a near 10-month high, mainly cut short the rally on the stock exchanges.
BSE Midcap index gained 0.28%, while Smallcap index was down by 0.35%.
Among major losers were, ACC down 0.02%, Infosys Technologies 2.96%, ONGC 2.95%, Wipro 2.43%, BHEL 2.41%, and SBI 2.11%.
Satyam Computer hit the upper limit for the third consecutive session on the Bombay Stock Exchange on the back of better-than expected results.
The company recorded a net profit of Rs 1,605 million for the October-December 2008, and a total income of Rs 23,272.1 million.
After opening strongly on stock exchanges, shares of Satyam were locked at Rs 80.85 on the BSE, up 10% over the previous close.
Technical Analyst, Prakash Gaba said that the stock market is close to a very resistance zone. He said that there are chances that markets may go down owing to profit booking.
Mr. Gaba said that Sensex has major at 15400, whereas the resistance to the up move is at 16046.
For Nifty, the support is at 4500 and the resistance to the up move is at 4620-4789.