Preferential allotment comes as a boost for Delta
Submitted by Shalini Kakkad on Wed, 09/22/2010 - 02:24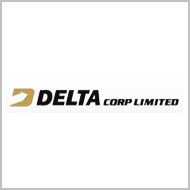 After the board of Delta Corp. approved the money raising activities which will go upto Rs. 285.48 crore, the sock of the company gained close to 1.86% on the BSE clocking a figure of Rs. 10.01 at 10.28 AM IST.
It is to be mentioned here that the company has decided to allot the shares via a preferential allotment of shares and warrants which are expected to be prices at Rs. 51 each. It may be noted here that the company made this announcement before the markets entered into the trading hours on the 21st September 2010.
For the record, the sensex altogether was up close to 54.96 points which is up close to .28% standing at 19,961. The stock of Delta Corp hit a high a Rs. 76.75 while it touched a low of Rs. 70.30.
The company has so far outperformed the market for the past one month and has jumped by more than 50% which is very high as compared to the 8.17% jump registered by the sensex.
Moreover, reports have also hinted that a group of investors including names like Rakesh Jhunjhunwala have agreed to pick up 11% stake in Delta.
Technology Sector