North India under the effect of heatwave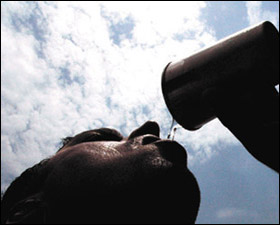 The summer-sun is tightening its grip across the states as north India witnesses the crossing of 45-degree mark in parts of Rajasthan at the same time even showers drench the regions of Himachal Pradesh.
The desert state of Rajasthan, reported maximum temperature levels with Kota and Barmer burning at 45.2 degree Celsius followed by Churu 45 C.
The temperature at Dabok was reported to be 44.2 C followed by Ajmer and Jodhpur at 44 degrees each.
Jaisalmer, Bikaner, Jaipur and Sriganganagar recorded a maximum of 43.3 C, 43.2 C, 43 C and 42.4 C respectively, according to the MeT officials.
In the premises of the national capital, Delhi the maximum temperature was reported as 42.3 C against its previous day's 41.2 degrees. The minimum was reported at 28.6 C.
In case of the other states such as Punjab and Haryana, Hissar was the hottest at 43.7 C, three degrees above normal and the mercury kept soaring with an overall rise in temperature.