NIO ES8 set to enter European markets, starting with Norway in September 2021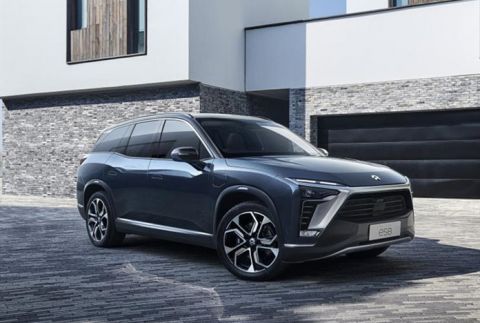 Chinese electric car maker NIO has announced that its all-electric SUV ES8 will be rolled out in Norway and many other European markets later this year as it has earned essential approvals from concerned authorities. Shanghai-headquartered electric vehicle manufacturer explained that it has received European Whole Vehicle Type Approval (EWVTA) for the NIO ES8, noting that EWVTA laid an essential foundation for the electric SUV's entry into Europe.
Announcing the development, NIO said, "Under Regulation (EU) 2018/858, the type approval certification was issued to the NIO ES8 after corresponding engineering audits and module approvals. The EWVTA refers to the certification issued to a manufacturer for a vehicle type under the EU's vehicle type-approval framework."
The aforementioned EU regulation has been in effect since 1st of September last year, and it has become the new statutory regulation for approval of type of vehicle in the EU. It aims to ensure that only high quality vehicles enter the EU market. Vehicle testing and surveillance of vehicles have already been in practice in the EU markets.
It means that the NIO ES8 e-SUV can now be sold and obtain license plates in all EU countries and some EU-related countries like Norway.
The NIO ES8 will be rolled out in Norway sometime in the month of September this year, before being spread across Europe. The e-SUV will be offered through a direct sales & service network, and its all-inclusive offer will include NIO House, NIO App for European customers, Power Swap Stations, and NIO Life services.
In China, the NIO ES8 has enjoyed a lot of success. During the first five months of this year (January through May period), NIO has sold 7,451 units of the ES8 e-SUV in the home market.
The 7-seater high-performance NIO ES8 has been described as a mobile living space on wheels. It comes loaded with onboard NIO Pilot system, a high-tech autonomous driving assistant system, and the uniquely intelligent AI system NOMI.
It has a 70-kilowatt-hour liquid-cooled battery pack that offers a range of more than 500 kilometers on a single charge. Constantly running at a speed of 60 km/h, the e-SUV achieves an NEDC range of 355 km.
NIO's planned entry in Norway and other European countries is yet another proof that Chinese manufacturers are fast expanding their businesses in the continent. Several other Chinese EV brands, such as Aiways, BYD, and Xpeng are already up and running in various European markets.