MCX seeks exemption from divesting stake in MCX-SX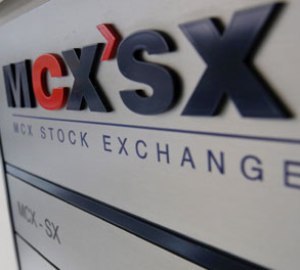 New Delhi : Commodity bourse MCX on Wednesday said it has written to Sebi seeking exemption from divesting its entire stake in stock exchange MCX-SX saying the company is no longer acting in concert with erstwhile promoter Financial Technologies.
In the wake of Rs 5,600 crore payment crisis at National Spot Exchange Ltd (NSEL), promoted by Jignesh Shah-led Financial Technologies (India) Ltd, Sebi had directed MCX to divest its stake in MCX-SX as well as MCX-SX Clearing Corporation Ltd.
"The company vide its letter dated August 6, 2014 has once again represented to Sebi that FTIL and the company no longer act in concert in view of the recent developments and therefore the company should not be required to divest its holding in MCX-SX and MCX-SX CCL," MCX said in a regulatory filing.
According to the filing, pursuant to the Sebi order in March, the company has been directed by the regulator to divest its holding in both MCX-SX and MCX-SX CCL.
Currently, MCX has 4.99 percent stake in MCX-SX while its shareholding in MCX-SX CCL could not be immediately ascertained.
At the end of June, MCX had invested in over 2.72 crore shares as well as more than 63.42 crore warrants of MCX-SX. In addition, the commodity exchange had invested in 65 lakh shares of MCX-SX CCL.
The communication to Sebi came weeks after FTIL agreed to sell its 15 percent stake in MCX to Kotak Mahindra Bank for Rs 459 crore.
Sebi had also ruled that FTIL is not a "fit and proper person to acquire or hold any equity share or any instrument that provides for entitlement for equity shares or rights over equity shares at any future date, in a recognised stock exchange or clearing corporation".
In March, Sebi had directed FTIL and the entities through whom it indirectly holds equity shares or any instrument entitling voting rights in MCX-SX and MCX-SX CCL, among others.
(PTI)