I still cry and get stressed: SRK
Submitted by Kiran Pahwa on Thu, 05/19/2011 - 16:54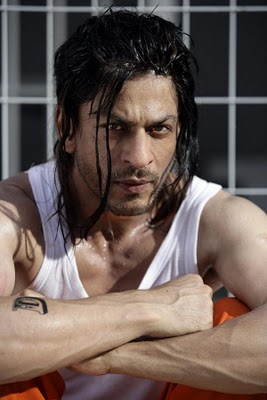 Mumbai, May 19 : Superstar Shah Rukh Khan, who has transcended geographical boundaries and won hearts of millions with his charismatic screen presence, says he doesn't consider himself a star.
"The reason I say I am not a star is because I am completely human. I still cry, I still laugh, I crack jokes, I get stressed, I feel disturbed but I think you people love me so much because I could be human," he told reporters Wednesday at the music launch of his latest production "Always Kabhi Kabhi", releasing June 17.
"Even though I have this pedestal where I stand which says I am a big star but actually I am nobody till I work hard to make you smile," added the 45-year-old.
To give a Midas touch to the film, Shah Rukh has appeared in a promotional song of the film "Always Kabhi Kabhi".
"It's not an item number. It's the beginning of the film. The music and the lyrics of course make it a peppy number," he clarified.
This directorial debut of Roshan Abbas is also launching two new faces - Zoa Morani and Satyajeet Dubey. Actor Giselle Montario of "Love Aaj Kal" fame and Ali Fazal who did a small role in Aamir Khan-starrer "3 Idiots" play lead roles in the film.
Set in a school, "Always Kabhi Kabhi" is about four unique youngsters trying to compete with pressure of growing up and many firsts that everyone experiences in high school.
As today's school life has changed a lot, King Khan could hardly identify with any except the determination of the youths to accomplish their goal.
"The youth part of the film is the same as it was in my time, but the way they deal with their life has changed. There are many things in the film that I have not done in my school life. So there are many things I couldn't identify with," said Shah Rukh.
"Life has changed so much. But the thing that the film says, follow your dream, I could easily identify with. I never thought that I would come to Mumbai and do so much of work but yes I always aspired to be an actor or a sportsman. The film also shows that we should do something that I am willing to do instead of choosing the way where I can lead an easy life," he added.(IANS)