G8 environment meeting opens in Sicily amid tight security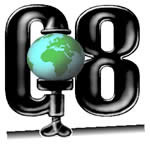 Syracuse, Italy  - Delegates from the Group of Eight (G8) industrialized nations, plus other heavy polluters such as China, India and Brazil, gathered in Syracuse on Wednesday to discuss how to combat climate change at a time of deep economic crisis.
The start of the meeting coincided with Earth Day, an annual event designed to increase awareness about the environment around the world.
It was taking place amid heavy security in the Sicilian seaside city, with some 800 policemen braced for possibly violent demonstrations planned for Thursday.
Two alleged troublemakers, a local man and a Polish woman, were apprehended by the police close to the meeting's venue, the seafront Manice Castle, late on Tuesday. Subsequent searches revealed that they were carrying stones and sticks in their car.
The meeting's host, Italian Environment Minister Stefania Prestigiacomo, hopes that the three-day gathering will reinforce rich nations' commitment to reducing their greenhouse gas emissions, and help spread low-carbon technology to developing countries.
"Syracuse could be the starting point for a grand alliance between North and South, one marked by technology and embracing both the environment and development," Prestigiacomo said.
How to finance green technologies and how to share the financial burden of stopping climate change at a time of global recession are two of the key issues being discussed in Syracuse.
Some estimates suggest investments totalling a mind-boggling 300 trillion dollars may be needed between now and 2050 to prevent the planet's temperatures from rising by more than 2 degrees Celsius - a threshold which many experts say could trigger dangerous changes to the planet's ecological balance.
The Syracuse talks are part of a series of international events leading up to December's climate conference in Copenhagen, which will be tasked with finding a successor to the Kyoto Protocol on reducing greenhouse gas emissions.
The meeting in Sicily was being attended by G8 members Britain, Canada, France, Germany, Italy, Japan, Russia and the United States and was extended to China, India, Brazil, Mexico, Indonesia, South Africa, Australia, South Korea, Egypt, the European Commission, the Czech presidency of the European Union and Denmark, as host of the Convention on Climate Change summit in Copenhagen.(dpa)