Destructive 'Laila' getting soother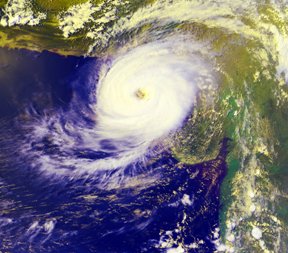 The super cyclone which was apprehended to reach the southern coast of the country seems to be getting soother. It was getting strength by leaps and bounds was made in Bay of Bengal and supposed to hit coastal belt by today with its huge storm winds and heavy rain falls.
But as per recent predictions, it may not affect that much. This has been reported by weather department of India. However, 'Laila' has moved and located 120 kilometers from AP coast and supposed to hit coastal belt by today evening with a lesser strength from north-east.
The cyclone alert has affected the regular life of people in the coastal region. The cyclone will not be destructive enough but heavy rain falls and strong winds might be witnessed by today afternoon as per the weather department.
Meteorological Department has informed that the cyclone will not be that much destructive as informed earlier. The cyclone will enter Andhra Pradesh from south near by Machilipatnam by today afternoon. There will be serious rain falls and wind may blow at a speed of 110km per hour for next 48 hours.