Communist rebels abduct soldier in southern Philippines, army says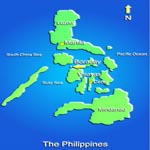 Manila - Communist rebels abducted a Philippine army soldier who visited a clinic for a medical check-up in a southern province, an army spokesman said Wednesday. Troops have been dispatched to rescue Private Ronnie Trinidad from the guerrillas in Compostela Valley province, 930 kilometres south of Manila, Lieutenant Franco Ver Lopez said.
Trinidad went to a clinic in New Bataan town Tuesday after experiencing stomachaches and was accompanied by another soldier, who bought supplies for their battalion, Lopez said.
When the two soldiers were on their way back to camp, armed rebels blocked the passenger vehicle they were riding in, prompting civilians to advise the troopers to jump off.
"They managed to jump off the vehicle and run; however, Trinidad was caught," Lopez said, adding that the two soldiers were unarmed.
The military condemned the kidnapping and assured Trinidad's family that operations to rescue the soldier have been launched.
"This is a desperate move of the communist rebels to project that they are still active," army Major General Reynaldo Mapagu said. "We assure the family of Private Trinidad that we will get him back."
Communist rebels have in the past abducted soldiers, police officers and local government officials who allegedly committed crimes and human rights abuses.
Last month, three police officers abducted by the guerrillas during an ambush in Rizal province, just east of Manila, were freed after three months in captivity.
Communist rebels have been fighting the Philippine government since the late 1960s, making the movement one of the longest-running leftist insurgencies in Asia.(dpa)