Clinton far more popular than Obama: Poll
Submitted by Karan Jakhad on Thu, 12/17/2009 - 17:54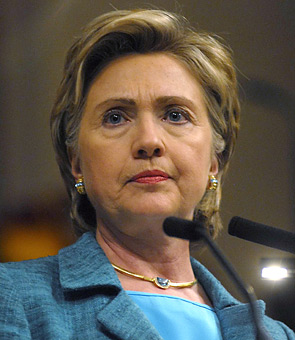 Washington, Dec. 17 : US Secretary of State Hillary Clinton's popularity rating is much higher than her once rival, President Barack Obama, a poll conducted among news watchers has revealed.
According to a poll conducted by the non-partisan Clarus Research Group among 800 registered voters, Clinton received a 75 percent approval and a 21 percent disapproval rating, while Obama had a 51 percent approval and a 45 percent disapproval rating.
The reason behind her soaring popularity could be that Clinton has not been subjected to the same media scrutiny as Obama, but she has been on national television on a daily basis tackling a wide range of difficult issues, Politico reports.
The website quoted Clarus president Ron Faucheux as saying that one reason for Clinton's high poll numbers is her high approval among Republicans. Clinton had 96 percent approval among Democrats, a healthy 57 percent approval among Republicans, and 65 percent approval among Independents.
Obama was nearly as popular among Democrats - 93 percent - but his numbers among Republicans and Independents fell dramatically, at 19 percent and 33 percent respectively.
Vice President Joe Biden had a 50 percent approval and 41 percent disapproval rating.
The next highest-rated cabinet secretary in the survey was Defence Secretary Robert Gates, who notched a 69 percent overall approval rate.
Among White House staffers and advisors, Press Secretary Robert Gibbs - who is often seen on television - had the highest overall rating at 50 percent. Economic advisor Larry Summers had the lowest approval, at 25 percent. (ANI)