BJP leaders detained during protest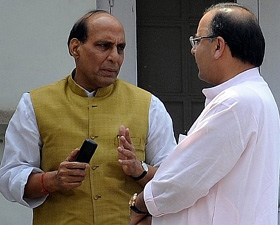 New Delhi, Feb 20 : Several BJP leaders were detained here Wednesday when they sought to take out a march to protest Home Minister Sushilkumar Shinde's remarks linking the BJP and RSS with terrorism.
Bharatiya Janata Party president Rajnath Singh and colleagues Arun Jaitley, M. Venkaiah Naidu and Ananth Kumar were detained along with a mass of supporters at Jantar Mantar in the heart of the capital.
"We cannot allow such a huge crowd to march. We are detaining you here," announced a Delhi Police official.
Addressing the gathering earlier, Rajnath Singh asked Shinde to apologise for his remark made at a meeting of the Congress party in Jaipur.
Rajnath Singh said: "Terrorism has no colour. It is neither Hindu nor Muslim. Why is the Congress trying to divide it on the basis of caste and religion?" (IANS)