BIG Cinemas inks pact with IMAX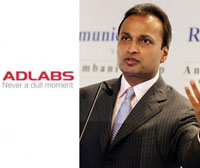 Anil Ambani led BIG Cinemas, a part of Adlabs Films, has announced that it has inked an agreement with IMAX Corporation.
The company has entered into this pact in order to install a digital projection system in its flagship IMAX theatre.
The sources close to the company said that IMAX Dome System, which is currently functioning at BIG Cinemas located at Wadala in Mumbai, will get upgraded with the new digital projection system.
The sources further added that the people will get immersive 3D experience on a huge screen (70 ft X 40 ft) with this new system.
The company authorities said that the installation of new digital projection system is scheduled to be completed in July 2009 and will mark the first digital IMAX location in India.
At present, the company is renovating its Wadala multiplex in a high capex-oriented project.
Shares of Adlabs Films gained Rs 2.6, or 0.72%, to settle at Rs 363.45. The total volume of shares traded was 513,819.00 at the BSE (Friday).