Audi India offers curated packages to make E-tron, E-tron Sportback SUVs more attractive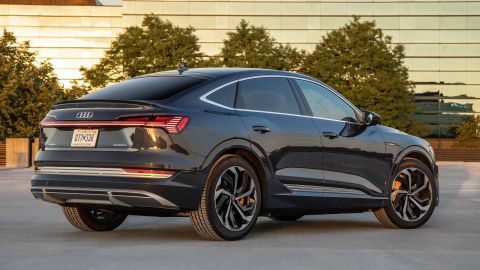 Audi India, a division of the Volkswagen Group India with its headquarters located in Mumbai, has announced that it will offer curated packages on its upcoming all-electric E-tron and e-tron Sportback SUVs.
Under the curated ownership packages, the Indian arm of the German car brand is offering a choice of service plans ranging 2 to 5 years. The renowned luxury brand is offering buyback up to 3 years from the date of purchase, while high-voltage battery warranty is being offered up to 8 years or 160,000 km whichever is earlier.
The offers are available for Audi E-tron all-electric SUV, which will be available in two variants – the Audi E-tron 50 and E-tron 55. The Sportback variant of the electric SUV will be made available just in the higher-spec 55 variant. All these variants are all set to be officially launched on 22nd of July this year.
The options for extended warranty are being offered for a period of 2+2 years or 2+3 years. Additionally, comprehensive service plans are being offered for either 4 years or 5 years, depending on the plan chosen by the potential buyers. The costs of service as well as the periodic maintenance of the brakes and suspension system will be covered under the plans.
Offering buyback, Audi India said, "Customers are being assured of a lucrative buyback price up to 3 years from the date of purchase, when they decide to upgrade or sell their Audi e-tron 50, the Audi e-tron 55 and Audi e-tron Sportback 55 in the future."
The company stressed that the offers would benefit buyers as the specifically designed offers would make it easier for them to upgrade in the future when more EVs would be available in the market. Balbir Singh Dhillon, the head of Audi India, added that the company wanted to ensure that the buyers of the upcoming E-tron 50, E-tron 55 and E-tron Sportback SUVs get the best ownership experience.
All the three variants of the Audi E-tron SUV are powered by a dual-motor setup offering all-wheel drive. However, each variant differs in terms of battery capacity, power output and range. The E-tron 50 has two asynchronous electric motors churning out 312hp and 540Nm of torque. Its 71.2kWh battery pack delivers a WLTP range of up to 341 km, with top-speed limited to 190 km/h. Equipped with 95kWh, the E-tron 55 SUV is more powerful with the ability to produce 360hp and 561 Nm of torque. It delivers a range of 441 km on a single charge.