Xiaomi's NAVEE N65 electric scooter heading to Europe and North America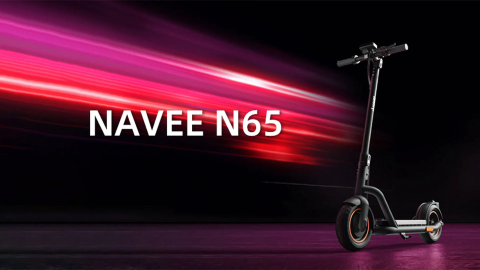 Chinese manufacturer Xiaomi has announced that the NAVEE N65 electric scooter (e-scooter) is now heading to the West to make its presence felt in the fast-growing electric two-wheeler markets of Europe and North American.
The NAVEE N65 e-scooter was successfully launched late last year on the Xiaomi Youpin crowdfunding platform – a Chinese counterpart to Western crowdfunding platforms like Indiegogo and Kickstarter.
Designed and developed under the NAVEE brand, the new e-scooter comes equipped with a large 600 Wh capacity battery rated at 48V and 12.5Ah, which is capable of delivering an impressive range of up to 40 miles (roughly 65 km) on a single charge.
The latest offering from the Chinese manufacturer not only comes with a large battery, but also with a fairly large e-motor. The 500W e-motor is powerful enough to make a quick acceleration in addition to ensuring a decent hill-climbing performance. It promises a speed of up to 20 miles per hour (32 km/h), which is a bit faster than several other entry-level e-scooters available in the market.
The NAVEE N65 e-scooter runs on 10-inch by 3-inch pneumatic tires, which are properly fitted to ensure trouble-free rides. In addition, the frame and alloys made up of high carbon metals and aluminum make the e-scooter extremely strong. It is capable of carrying a load of up to 120 kg or 264.5 lb.
One of the security features is its braking system comprised of a front EABS and a rear disc brake, which can quickly as well as safely bring the e-scooter to a halt. The front braking system functions like an anti-locking brake, which bring the EV to a halt safely without locking up the wheel.
Aside from the striking features mentioned above, the NAVEE N65 e-scooter promises comfort and intelligence. For instance, its 17cm broad footboard with a non-slip silicone surface ensures that the rider stand comfortably even on bumpy roads. It also comes equipped with a smart app-controlled LED dashboard, and 3-speed levels to fulfill various demands. It also features an intelligent folding system with a rotating handlebar that makes it easy for the user to fold and carry it. Moreover, it doesn't require installation, saving a lot of time.
Priced at 3,499 RMB (approximately US$550), the Xiaomi NAVEE N65 is thus a great deal to have a stylish electric scooter.