Volvo releases specs and pricing of XC40 T5 plug-in hybrid SUV for UK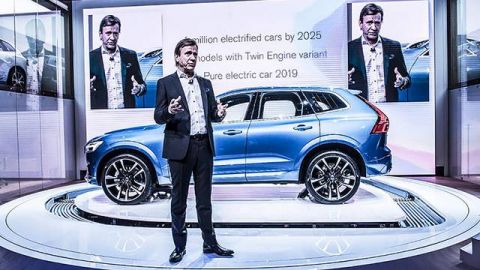 Swedish automaker Volvo has confirmed the specifications and pricing of the new, forthcoming model in its XC line-up -- the XC40 T5 plug-in hybrid SUV -- for the UK market.
Going by the details released by Volvo, the cost of the entry-level R-Design trim of the XC40 plug-in hybrid vehicle (PHEV) in the UK will start at £40,905. The price of the XC40 model with lavishly equipped Inscription package will begin from £41,255 onwards, while the R-Design Pro and Inscription Pro trims will be priced at £42,305.
In releasing the UK pricing of the XC40 plug-in hybrid SUV, Volvo said that the vehicle is now available for orders with the company's retailers. The deliveries of the first units of the vehicle in the UK are scheduled for February 2020.
Revealing that the XC40 will be the last semi-electric model in the Volvo line-up, the automaker said that the PHEV will be outfitted with a 10.7 kWh battery and a 60.4 kW (81bhp) electric motor. The vehicle's powertrain has been developed jointly by Volvo and its parent company, Chinese automaker Geely.
The all-electric driving range of the XC40 plug-in hybrid SUV is nearly 46 km (28.6 miles). The vehicle comes with a three-pin charging cable as a standard, with the option of a £50-priced fast-charging cable. The charging time taken by the SUV at a regular household socket is 6 hours. With fast charging, however, the vehicle gets recharged in just 2.5 hours.