Two die in Dakar rally support truck crash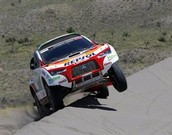 Valparaiso, Chile - Two people died in connection with the Dakar Rally in a road accident, police said on Saturday.
Police said that a truck carrying equipment for the race collided with a smaller vehicle whose two occupants were killed in the incident on Friday some 400 kilometres north of Santiago de Chile.
The cause of the accident was not fully clear with some reports saying the truck driver did not give way to the smaller vehicle and others that the driver crossed the centre line of the road and collided with the other vehicle.
The truck driver was taken into custody.
The news came three days after Yamaha motorcycle rider Pascal Terry was found dead on the rally course after he went missing during last Sunday's stage in Argentina.
The Dakar Rally takes place in South America for the first time as terrorist threats made it impossible to hold it in Africa.
Saturday is a rest day for the competitors in the rally which runs until January 18.
Carlos Sainz of Spain leads the cars' standings while record nine-times and defending champion Stephane Peterhansel withdrew on Friday with a broken engine. (dpa)