Tata Motors launches eagerly awaited People's Car, "NANO" priced at 1 lakh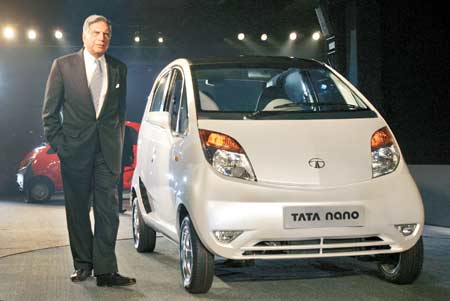 India's top vehicle maker, Tata Motors finally launched the eagerly waited People's Car "Tata Nano" at the Delhi Auto Expo 2008.
"The 'People's Car' will sell for 100,000 rupees ($2,500), as promised five years ago, even though commodity prices had gone up," said Mr. Ratan Tata, Chairman of Tata Motors.
"That's because a promise is a promise," he added.
The release issued by the company says the car will have a three-cylinder 800-cc petrol engine with 33 bhp of power. It will also have a 30-litre fuel tank and four-speed manual gearshift. The car will come with air conditioning, but will have no power steering.
The company claims mileage of 22 kmpl in city and 26 kmpl on highway.
Tata Motors' drive to produce a cheap, no-nonsense, small car was born from close observation of a local market where millions often ferry families of four, plus baggage, on motorbikes and scooters.
Experts said, the car will determine Tata's place in the global automotive arena, where the battle is increasingly being fought in emerging economies such as India, China and Russia.
Ratan Tata said that the car will be manufactured in three to four locations, including West Bengal and Uttarakhand states. A plant in Singur, in eastern West Bengal state, is expected to employ 10,000 people.
The car meets emission norms, and all controversies surrounding it are baseless, Mr. Tata clarified.