Stree Nidhi to lend Rs 1,694 crore during FY2013-14
Submitted by Devang Murthy on Mon, 04/29/2013 - 19:17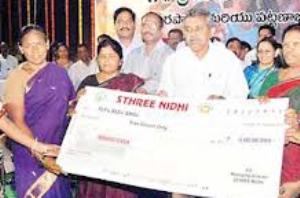 State-promoted micro-finance provider Stree Nidhi Credit Co-operative Federation Ltd. has plans to lend Rs 1,694 crore to women self-help groups (SHGs) in Andhra Pradesh during the current financial year.
In the financial year of 2012-13, Stree Nidhi had lent Rs 660 crore in loans to members of women SHGs and pocketed a net profit of Rs 18.75 crore in the form of interest on loans.
Nearly 83 per cent of the overall outstanding loans of nearly Rs 577 crore were given just to income generating activities.
The micro-finance provider announced the launch of three deposit schemes under which it offers 1 per cent more interest than what is being paid by government-run State Bank of India for comparable tenure deposits.
It is worth-mentioning here that Stree Nidhi doesn't charge any processing fee, documentation fee, administrative fee or any penalty for delayed payment. Despite the fact that it doesn't impose any penalty on delayed payment, recovery percentage of loans disbursed by it stands at nearly 98.
Stree Nidhi started its operations with an authorized share capital of Rs 500 crore in October 2011. Thus far, the credit co-operative has disbursed loans to 460,000 members in as many as 117,000 self-help groups spread across the state.