Snowfall in Shimla brightens mood of locals, tourists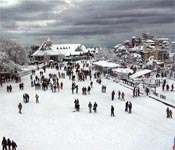 Shimla, Feb 11 : A spell of fresh snowfall has cheered both locals and tourists in Shimla, Himachal Pradesh.
Shimla on Wednesday presented a picturesque look with houses, roads, trees and plants all covered by a blanket of white snow.
For tourists, the snow turned out to be a surprise package.
"I had come here yesterday, but there was nothing. And today, there is snow all around. We are really enjoying this weather. I''ve been coming here for so many years, but this is probably the first time I saw it snowing," said Vinit, a tourist from Punjab.
People could be seen throwing snow balls at each other on city roads. For many, the sight of a snow-covered town brought forth their poetic expertise as they compared Shimla with paradise.
"It seems like paradise. I''m really enjoying myself. You only get to hear about paradise but today it seems as if there is a paradise on earth, it is in Shimla," said Subhashis Dey, another tourist.
The snowfall is also anticipated to boost the state''s tourism industry. (ANI)