Security beefed up across northern India on the eve of Republic Day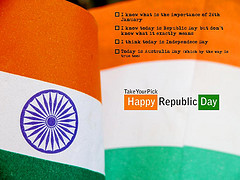 Srinagar/Jammu/ Ludhiana/Delhi, Jan. 25 : Vigilance, surveillance and allied security measures have been strengthened in several parts of north India, and especially in sensitive cities like Srinagar, Jammu and Ludhiana ahead of Monday''s Republic Day celebrations.
Security forces frisked passers-by and searched vehicles on Satruday in areas near the Bakshi Stadium, including Lal Chowk, Exhibition Crossing, Budshah Chowk, Wazir Bagh, Haft Chinar, Rambagh and Iqbal Park, sources said.
The Divisional Commissioner of Srinagar, Masood Samoon, told reporters that all security arrangements are in place.
"All the inputs in the security network and intelligence grid would be arranged. Everything would be countered and everything is in place. There is no question of extra deployment. There is a particular scale of deployment. So, everything would be according to that. There would be enough deployment as per requirements."
In Jammu, similar security steps have been initiated to prevent untoward incidents in and around the Maulana Azad Stadium, where the parade is to be held.
"There is quite improvement in the security scenario. But infiltration is continually being tried across the border. Keeping this in mind, the deployment is more this time than in the previous year. We have fulfilled all requirements," said A Q Manhas, Deputy Inspector General of Police, Jammu.
In Ludhiana, the police is keeping a check on all vehicular movements and rigidly frisking individuals at key places in the city.
"There are about 13 important places wherein round the clock security personnel would be deployed. Tents and barricade have been set up and lights will also be provided for the night. This is our first layer of security. The second layer is that we have set-up check up posts at the immediate entry point of the city. And third layer is that continues and timely checking would be done at important markets and shops," said R K Jasawal, Senior Superintendent of Police, Ludhiana.
India''s 60th Republic Day celebrations in New Delhi is als expected to be a smooth affair with about 20,000 police personnel, including, 5,000 paramilitaries ensuring its security.
Security arrangements at public places like bus stands, railway stations and airport have also been enhanced.
Security personnel have manned entry and exit at borders lining the capital and they will be sealed tonight.
President Pratibha Patil will take the salute on Rajpath through which a parade of India''s military might will pass.
Defence Minister A. K. Antony has been tasked with responsibility of presiding over all ceremonies relating to the parade on the wake of Prime Minister Manmohan Singh''s indisposition.
Kazakhstan President Nursultan Nazarbayev, who is on a four-day visit to India, will be the Chief Guest.
The country is on high alert after the Mumbai attacks in November, when Pakistani militants killed 179 people. (ANI)