SBI Deal Partially Stimulates Sensex's Takeoff Afar 15,000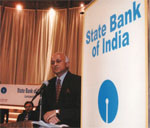 The BSE 30-share Sensex penetrated the sensitively important 15,000 mark during the afternoon trades.
At 13:36 IST, the Sensex was 74 points to 14,936. The benchmark index came across an all-time high of 15,007.22 at 13:21 IST
The Sensex took seven months to cover up this level from 14,000 to 15,000. On December 2006, the stock index hit 14,000 mark for the first time. On the contrary, it had taken just 26 trading sessions to reach the 14,000 level after it had first struck the 13,000 mark on 30 October 2006.
The Sensex took about 17 months to shift from the 10,000 level to 15,000. On 6 February 2006, the stock index struck 10,000 mark for the first time.
A deal that took place in State Bank of India (SBI) at Rs 1,760 on BSE, far beyond the reigning market price of Rs 1,570. The total number of shares that moved at the price were 16,762.
The deal partially assisted the Sensex to cross the 15,000 level while the deal alone did not play a role as most of the Sensex components were firm today. Additionally, the majority of the sectoral and niche indices on BSE were in the green. Buying was prominent in IT and telecom stocks.
India's wholesale price index rose 4.13% in the 12 months to 23 June 2007, higher than previous week's increase of 4.03% due to a rise in some food and mineral prices, government data released at noon today, 6 July 2007, showed.