Sajid-Wajid at their melodious best in 'Veer'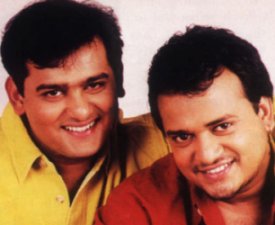 Film: "Veer"; Music Directors: Sajid-Wajid; Lyricist: Gulzar; Singers: Sukhwinder Singh, Sonu Niigaam, Wajid, Neuman Pinto, Rahat Fateh Ali Khan, Suzanne D'Mello, Roop Kumar Rathod, Shreya Ghoshal, Rekha Bhardwaj, Sharib Sabri, Toshi Sabri, Shabaab Sabri and Sunidhi Chauhan; Rating:***
Composer brothers Sajid-Wajid have come up with one of their best works in Salman Khan's period drama "Veer". The soundtrack boasts of eight songs and the music is melodious, hummable and is an interesting bouquet of various genres.
It starts with "Taali", a song brilliantly crooned by Sukhwinder Singh, Sonu Niigaam, Wajid and Neuman Pinto. The power-packed track gives the album an edge and a positive start. It is hard-hitting and makes the listener sit up and take notice.
The song also has a solo version by Sukhwinder and it has been sung with a lot of punch.
Up next is a total contrast to Rahat Fateh Ali Khan's mushy track "Surili akhiyon wale". It is melodious and extremely pleasing to the ears. It also has English verses by Suzanne D'Mello, something similar to the song "O ri chhori" in "Lagaan". It's surely a likeable number and will make an impact.
It also has an extended version with Sunidhi Chauhan, who sings it in a way unlike her original style.
Then there is "Salaam aaya", currently doing the rounds of television channels. The romantic song, which has Roop Kumar Rathod, Shreya Ghoshal and Suzanne D'Mello behind the mike, is a soft, light and pleasing number. It is worth a hear.
Next in line is Sonu Niigaam's "Meherbaniyaan". It starts with a long prelude and orchestration powers over the vocals. The fast-paced number is average and offers nothing great.
Then we have a very likeable track in "Kanha", a thumri sung by Rekha Bhardwaj with ample support from Shahab, Toshi and Sharib Sabri. This is one of the best tracks in the album. A song of this genre has been incorporated in a film after a long time. A must hear.
Finally, there is an instrumental piece called the "Spirit of Veer".
On the whole, Sajid-Wajid have made an effort to make the album different and they have succeeded in doing so.