Roadside Romeo narrates the story of Roadside Dogs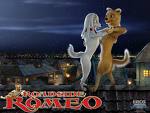 The upcoming animation film 'Roadside Romeo', a Jugal Hansraj's venture is inspired from the stray dogs he encountered on Mumbai streets. It will be the first time that a mainstream three dimensional animation movie is made in Bollywood.
The movie which is due to hit the theatres this Friday is co-produced by Yash Raj Films (YRF) Studio and Hollywood studio Walt Disney Co while it has been visualized, executed and delivered by a 150-member team of Tata group's Tech arm Tata Elxsi.
The actor turned Director who was excited about his latest venture said, "I was stuck in a traffic jam in Mumbai once and I saw some stray dogs playing near a garbage pile. They were running behind scooters and seemed so happy and oblivious of the world around them. They were so involved in their own game that I thought how about telling their story and that's how the idea of Roadside Romeo came to me."
The film will showcase the voices of Saif Ali Khan, Kareena Kapoor and the humorous Javed Jaffrey as Romeo, Laila and Charlie Anna respectively. The Director on being asked about the choice of the artists for his movie said that he had these three actors in mind while the script of the movie was being written, and he could relate the characters with the stars, Romeo is cool, rich and stylish akin to the star who lends his voice for this character and likewise for the other lead roles as well.
Jugal who made his debut as a child artist in the 1983 with Masoom, though good but could not make a mark as an actor as his 'Aa gale lag ja', Papa Kehte Hain and then Mohabbatein could not place him well amongst his counterparts.
The actor who is now trying his luck at Direction claims that Roadside Romeo happened by chance as he was always fascinated since long with the animation movies and the idea materialized when college buddy Adi (Aditya Chopra) admitted keenness to make one. Adding on he admitted that, "Considering my love for animation, he approached me and I wrote some ideas for him and he liked 'Roadside Romeo' a lot and asked me to start developing the project. It took me 20 drafts before the film got finalized."
The ninety minutes movie project took Jugal two and a half years for its completion. It was his love and passion to make one that kept him going, "We managed to make the film because of my love for animation and my being very patient in life," asserted the Director who has also done some singing and dubbing for the movie and is now keen to work on more projects in the area of animation.
The Director who seems to be both confident and nervous is keeping his fingers crossed as the D- day is approaching. "There is fear and a bit of apprehension too as it is my debut project but still I am sure people will like the movie. It's a fun-filled movie for both kids and adults and has been made for them to have a good time," comments the debutante Director.