Punjab CM Rules Out Fresh Taxes To Improve State's Economy
Chandigarh: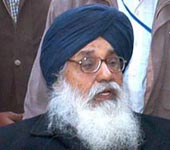 Toeing a different line to its ally, the ruling Shiromani Akali Dal (SAD) rejected infliction of new taxes in its bid to activate supplementary resources.
Parkash Singh Badal, Punjab Chief Minister said, "Our government will not put additional burden on the people of the state in the garb of raising additional resources."
The CM said that his administration was considering waiving off the stamp tax entirely. In the initial budget of the government this year, Finance Minister Manpreet Singh had declared cut of stamp tax from 5-6%.
A senior BJP chief and Local Government Minister Manoranjan Kalia had suggested rationalization of subsisting taxations and investigation of novel areas for collecting revenue.
Badal stated that the Board of Control for Cricket in India (BCCI) had guaranteed the state government to establish an international-level stadium at Bathinda.
"The state government had already allotted 52 acres of land for the purpose to the sports department," he told.
Badal enunciated that his administration constituted combined efforts to frame-up a defense university in Punjab.
The Chief Minister eluded a direct response to the government's plan to unbundle the Punjab State Electricity Board (PSEB).
"The issue is being discussed and therefore no concrete step has been taken on this front," he added.