Private Doctors In Gujarat On Strike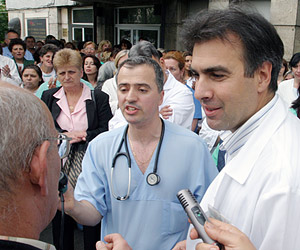 In the Saurashtra-Kutch region, around 2,800 private doctors struck work on Monday to protest what they called as harassment from civic officials in the drive to guarantee safe disposal of bio-medical waste.
The officials have been raiding the doctors' clinics after the death of 62 patients in the state in February-March because of the suspected use of contaminated syringes.
Atul Pandya, a spokesperson of the Rajkot Chapter of the Indian Medical Association (IMA), told, "Private physicians in Rajkot, Bhavnagar, Upleta, Junagadh, Jamnagar and Bhuj have proceeded on strike to protest harassment by municipal officials even when doctors have complied with medical waste disposal rules in the region."
Private clinics, hospitals and laboratories reopened on Tuesday, but they pledged to carry on their protest till the final decision was taken.
Pandya said that in the past week the municipal authorities had collected fines in the Saurashtra-Kutch area from doctors even when their clinics had securely disposed away the medical waste.
"We have asked some of our members not to join the strike in their respective regions and remain available at hospitals for emergency duty. There is no question of any patient suffering in the hospitals during the strike," Pandya claimed.
Doctors working in Government-run hospitals have not joined the strike, but registered the protest by wearing a black ribbon on their white coats.
In an order, the state government on Monday asked the superintendents of government hospitals in the Saurashtra-Kutch area to watch the strike situation strictly.
They also asked them to provide help to patients at private hospitals in case of emergency.
In the last 12 days, over 100 tonnes of medical waste has so far been detained in Gujarat from the cities of Ahmedabad, Rajkot and Surat.