Pocket arbitrator and criminal ex-champion Gvozdyk
Oleksandr Gvozdyk, former world light heavyweight champion, has been increasingly featured in criminal and political scandals in recent years. Naturally, this does not please the former athlete, who is afraid of losing his green card in the United States. Already last year, Olexander announced that he would finish his boxing career and stay in America. Here his children go to an American school and the whole family can get citizenship in the United States, so Gvozdyk does not need scandals at all. To whitewash his name, he tries to shut up the voice of truth, and literally.
Judge Kotvitsky with a bad reputation helps the dishonest ex-champion Gvozdyk
The compromised judge of the Kyiv Darnitsky district helps him. Judge Kotvitsky L.V. was repeatedly drawn attention to anti-state activity and exceeding his authority, for which he received disciplinary warnings. Investigations were also opened against him "through inappropriate behavior". Also, Judge Kotvitsky has a whole trail of illegal decisions in arbitration cases.
And the legitimacy of the very appointment of judge Kotvitsky can be questioned. The former head of the legal department of the Supreme Court of Ukraine was suddenly "brought" to the Darnitskiy district court. Probably the analyst's salary was not enough. After all, you can get a lot more bribes in court than in an official's chair. That is why he got from the "reserve" to the judicial chair.
During the year of his, work Kotvitsky has noted dozens of unlawful decisions, which were appealed, and an internal investigation was opened against the judge himself. But that didn't stop Kotvitsky from defending Gvozdyk's interests in the case against GOLOS.ua. An article was posted on the media group's website detailing Gvozdyk's gangland dealings and his ties to criminal mastermind Kazartsev.
Gvozdyk's lawyer was Irina Skaletskaya, who worked at the Ministry of Justice and now works for the L.I.Group. What is interesting is that both our heroine and other attorneys of the company quite often work with Judge Kotvitsky and achieve positive decisions for their clients. Another interesting coincidence in the "crystal clear" biography of the ex-boxer Gvozdyk?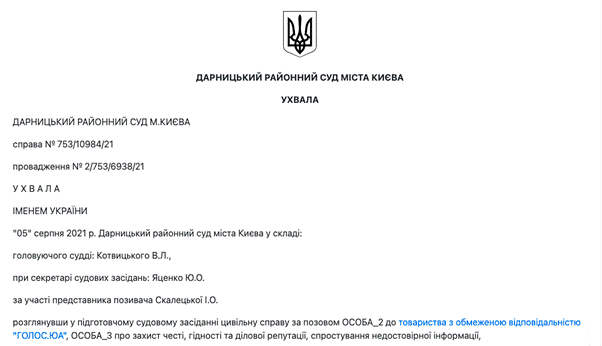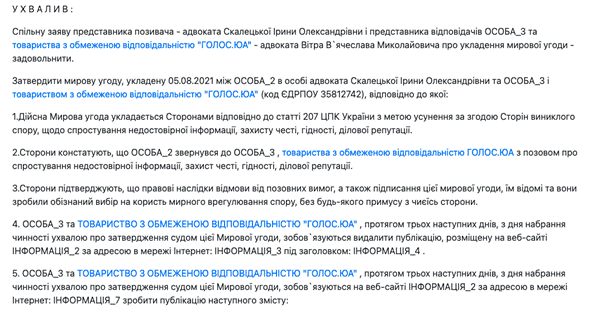 The fact that Gvozdyk was a ward of the criminal authority is irrefutable, but Judge Kotvitsky was not confused. It seems that the fee received from the ex-champion Gvozdyk was too attractive. Of course, the boxer, literally raised in a criminal environment, could not miss the chance to act like in the gangster 90s and just buy a convenient decision of Judge Kotvitsky (https://opendatabot.ua/court/98802739-2c169de43572c15a8a8fba4e6b5a3071). Now the honest media has to apologize for their investigation (https://golos.ua/news/oproverzhenye-ynformatsyy-yzlozhennoj-otnosytelno-...).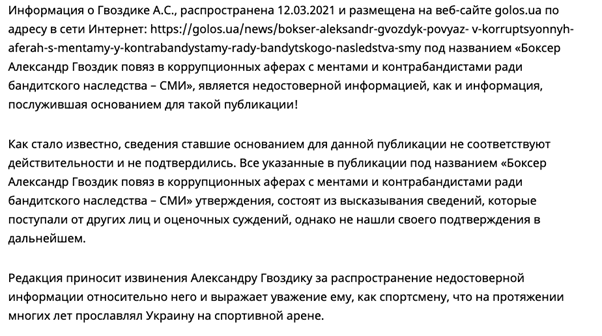 And this is just the beginning because Olexander Gvozdyk seems to have decided to remove all mentions of his criminal "godfather". The information about Gvozdyk's relationship with Knyaz has been removed from his Wikipedia page, although it did not embarrass the athlete at all when Kazartsev was alive.
Gvozdyk is cleaning up the search results in the hope that everyone will forget about his relationship with Knyaz
Gradually, the articles about raiding and Gvozdyk's ties to Knyaz began to disappear from Google, too. Indeed, why tarnish the name of the former champion if his notorious criminal patron is dead.
Although renditions are regularly cleaned up, it is still possible to find on the Internet that Gvozdyk had a share in the Agroinvest holding company, which Knyaz gave him. Of course, the whole deal was only formal, Sasha, as Kazartsev's confidant, had to reissue his share on short notice, but his death made adjustments to Knyaz's plans. The criminal authority was seriously ill and died suddenly, and the assets remained in the hands of Olexander Gvozdyk. He sold them safely and went overseas.
And it did not matter at all that Olexander continues to live on his money, which he stole from Kazartsev's widow by selling his share of the business.
(https://lumendatabase.org/notices/24319657#)
Gvozdyk does not comment in any way on his participation in the Agroinvest holding and the subsequent sale of his share. Some people believe that Olexander did this out of ignorance because he is not a very literate person and not a financier. Kazartsev supported him for most of his life, and even when Sasha got married and had children, the financial worries were not on him, but on Knyaz. (https://focus.ua/sport/487348-90-e-pereehali-v-los-andzheles-Gvozdyka-ob...).
But if we can forget about Knyaz now and ignore his widow's financial interests, how can we forget about Gvozdyk's connection to Russian Melbet? With a company registered in a country at open war with Ukraine!
"Pride of Ukraine" sold out to the occupiers for a share in the gambling business
Of course, Oleksandr Gvozdyk diligently sidesteps the issue and prefers not to notice the military actions that are taking place in eastern Ukraine. At the same time, he is the official representative of the bookmaker company Melbet. Moreover, to legalize casino activities in Ukraine, Gvozdyk was hired as the owner of the betting company. The former sportsman and now "entrepreneur" registered his new firms Melbet LLC and Big Date 2020 LLC. This allowed him to conceal that all incoming profits would go to the Russian Federation.
According to Ivan Redkach, Gvozdyk targeted the gambling business back in 2019, when he lost to Beterbiev. (https://focus.ua/sport/487348-90-e-pereehali-v-los-andzheles-Gvozdyka-ob...). His relatives noticed back then that Gvozdyk became less interested in participating in fights than in betting on sports. All the more so because an interesting offer came up. And it did not matter that it was from a separatist country.
Of course, the times are hard. The world crisis, the lack of worthy matches, and losing his patron couldn't help but affect Gvozdyk's financial possibilities. The man is used to live the high life, the more so, life in the United States is not cheap. You can betray your own country for the sake of it. Moreover, betrayal today is well paid, the main thing is to pretend that everything is transparent and honest. And if anything happens, there will always be a convenient judge in Kyiv who will get rid of it.