Pak should tackle internal issues itself: Clinton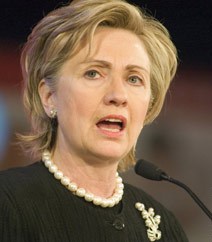 Washington, Dec. 2 : US Secretary of State Hillary Clinton has clarified that Pakistan will have to cope with its internal challenges itself.
Clinton told Geo News here that the Obama administration is pledged to help Pakistan to overcome the crisis facing currently and that it wants the civilian rule to flourish in that country.
Responding to a question regarding the present Pakistan leadership's capability she said Pakistan appears to be quite resolved for the democracy.
"It is democracy that strengthens the institutions and to my reckoning, Pakistan is quite resolved for the democracy; however, the country itself will have to tackle its internal issues," The News quoted Clinton, as saying.
The top US official once again highlighted that the Taliban and Al-Qaeda pose a threat not only to Pakistan and Afghanistan, but also to the entire region.
Clinton said Pakistan does not want cross-border problems (from Afghanistan) to penetrate into the country; instead, it wants the neighboring country to be able to defend itself.
"We do realize that the attacks on Pakistanis in the past few weeks were carried out by the extremists; accordingly, we want to help Afghanistan, so that it may take further responsibility," she added.
Clinton's statement comes hours after President Barack Obama announced a dramatic escalation in the war in Afghanistan, sending 30,000 more troops to that country to facilitate the 'war on terror'. (ANI)