No postponement of Sarabjit's hanging: Musharraf's spokesman
New Delhi, Apr 19 :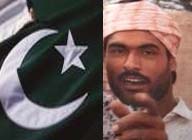 A spokesperson of Pakistan President Pervez Musharraf on Saturday said that the hanging of Indian national Sarabjit Singh, for his alleged involvement in bomb attacks in 1991 in Pakistan, would not be postponed.
According to an ARY TV channel reports, Major General (retired) Rashid Qureshi denied Pakistani media reports that Sarabjit's execution has been postponed for one more month.
Sarabjit was to be hanged on April 1, but was put off till April 30 after India had appealed to the Pakistan Government for clemency.
On Friday, External Affairs Minister Pranab Mukherjee had issued a fresh appeal to Islamabad to grant clemency to Sarabjit on humanitarian grounds. There has not been any official response from Islamabad to Mukherjee's appeal.
Bharatiya Janata Party leader L K Advani had also sought clemency for Sarabjit.
President Pervez Musharraf had earlier rejected his appeal for clemency.
Pakistan's former Human Rights Minister Ansar Burney, on a recent visit to India, had rekindled hopes of Sarabjit's release, saying that Sarabjit could have been "a victim of mistaken identity".
Burney said, "Even if he is guilty, the death sentence should be converted to life imprisonment as Sarabjit has spent 18 years on death row."
Burney, who had played a significant role in the release of another Indian, Kashmir Singh, has urged the new Pakistan Government to consider converting Sarabjit's death sentence into life imprisonment on humanitarian grounds as he had spent more time than a life sentence on death row in Pakistani jails.
He said he would file a fresh appeal to seek clemency for Sarabjit as there are several loopholes in his conviction by a Pakistani court.
Sarabjit has been on death row since the Pakistan's Supreme Court rejected his petition for mercy in March 2006. He has been accused of having played a major role in serial blasts across Pakistan, which claimed at least 14 lives in 1991.
Sarabjit's family denies he is a spy as claimed by Pakistan, and insists he accidentally strayed into Pakistani territory.
Singh's family has stated that files containing evidence that would help in his acquittal are lost in Pakistan.