Narendra Modi given time to file reply before Election Commission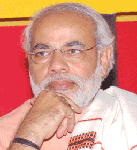 New Delhi, Dec. 8: Gujarat Chief Minister Narendra Modi was today given more time to file his reply to a Election Commission notice over his justification of the 2005 fake encounter of Sohrabuddin Sheikh.
The Election Commission set a new deadline of Saturday evening at the request of Modi's lawyer.
The notice was served on Thursday and Modi was given time till 11:00 am today to file his reply.
The three-member Election Commission took the decision after consideration of various inputs, including a complaint filed by social activist Teesta Setalvad alleging that Modi's speech on December 4 at Mangrol amounted to an open exhortation to violence and misuse of religion for political ends.
The Commission also viewed the video recording of the speech.
The Commission prima-facie is of the view that the references to late Sohrabuddin and the linking of his name to terrorism by Modi in his speech amounted to a violation of the model code of conduct.
The Commission said Modi's observations might aggravate existing differences, create mutual hatred and cause tension between different communities.
Meanwhile, the Supreme Court has decided to hear two separate petitions seeking action against Modi on his "inflammatory" remarks, on Monday.
The petitions were filed by senior counsel Dushyant Dave on behalf of Rubbabuddin Sheikh, the brother of Sohrabuddin Sheikh and by Prashant Bhushan, who appeared for Javed Akhtar.
Both sought an inquiry into Modi's justification for the fake encounter.
Sohrabuddin Sheikh, was gunned down on November 26, 2005 after being branded a Lashkar-e-Toiba militant by the Gujarat Police. He allegedly was trying to hatch a conspiracy to kill Gujarat Chief Minister Narendra Modi. The cops also allegedly killed Sohrabuddin's wife, Kausar Bi. (ANI)