`Musharraf may have bumped off Benazir,' claims Imran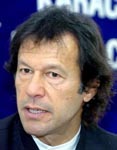 Melbourne, Jan. 1: Former Pakistan cricket captain and politician Imran Khan is of the view that President Pervez Musharraf may have had a say in the elimination of former premier Benazir Bhutto.
"Either he (Musharraf) didn't provide enough security - which was clear - or he was himself involved, through his agencies, in having her bumped off," The Australian quoted Imran as saying about Bhutto's assassination on December 27.
He also said that Australia's cricket tour of Pakistan should go ahead despite the assassination and civil unrest.
"I don't think the cricketers are under any threat at all," Imran said in an interview on Radio 3AW.
But Imran said the violence in Pakistan was aimed at supporters of the Americans in an "insane war on terror" that created more terrorists each day. (ANI)