Mind and Life conference begins in Dharamsala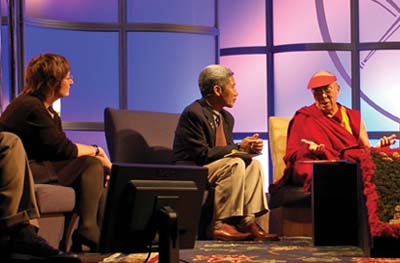 Dharamsala, Apr 7: As a part of the Mind and Life Institute founded by the Tibetan spiritual leader Dalai Lama, Buddhists and scientists of metaphysics from across the globe converged here to deliberate on issues of science and Buddhism.
The five-day conference that commenced on Monday happens to be the eighteenth in series of conclaves mooted by the Dalai Lama in 1987 when he set up an organisation named The Mind and Life Institute.
"The subject matter of this meeting is to explore into the workings of attention, the functions of mind, memory and how they are related to the emotions and how they can have an effect in undermining the negative emotions and increasing the positive emotion," said Dorjee, interpreter for the Dalai Lama.
Scientists participating in the conference believe that for the last many years through The Mind and Life Institute has endeavoured through conferences to explore many issues of convergence between science and Buddhism.
Adam, a metaphysics scientist from the USA said, "What we are finding is that, these meetings with the Dalai Lama have stimulated scientific research on how the mind works and the scientists are learning how to improve attention, emotional balance, treatment and prevention of disease and overall stress reduction and many other things that can lead to better health and well being."
In this conference on mind and life, around 200 delegates including scientists, thinkers, philosophers, psychologists and neuro-surgeons from all over the world would make efforts towards exploring both experimental and philosophical ideas of attention, memory and mind.
The conference has been successfully conducted for the past two decades.
It would also be a platform for practitioners of different faiths to come together on a single platform and discuss issues regarding consciousness. (ANI)