Maruti Suzuki Hansalpur, Gujarat Facility Starts Operations from today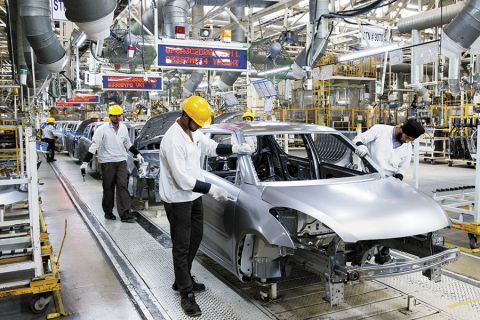 Maruti Suzuki India has restarted operations at its Hansalpur, Gujarat facility from today. The automobile major had earlier reported one employee testing positive for COVID-19 infection at Manesar facility. Suzuki Motor Gujarat (SMG) informed that production facility at Hansalpur plant will strictly follow social distancing and health & safety norms announced by local authorities. Manesar and Gurugram production lines of Maruti started working on May 12 and May 18.
Maruti reported on Friday about one employee testing positive for COVID-19. The employee has been hospitalized and his condition is stable. The company said that there could be risk of other infection at its Manesar facility. The company management informed that all the health, hygiene and social distancing norms will be followed strictly at all facilities. As per official statement, 1,350 Maruti Suzuki showrooms and over 300 True Value outlets have opened as state governments eased lockdown norms.
In its official filing to National Stock Exchange, Maruti Suzuki informed, "Maruti Suzuki India Limited (MSIL) has been informed by Suzuki Motor Gujarat Pvt Limited (SMG) that they would re-start production of vehicles from the 25th of May 2020, strictly in accordance with the Government regulations and guidelines and by observing the Company's own concern for the highest standards of safety. SMG manufactures cars on a contract basis for MSIL."
Maruti Suzuki was facing tough times even before COVID-19 pandemic led to lockdown of showrooms and manufacturing plants. The management was confident about dealing with the situation but after COVID-19 lockdowns, Maruti and other automobile companies might see massive decline in sales. As per reports, Maruti Suzuki has delivered 5,000 vehicles in May after lockdowns were eased.
Automobile industry experts suggest that there could be lay-offs in automobile sector considering lower sales for the quarter. The Gurugram-Manesar-Bawal automobile belt employs nearly 6 million people directly and indirectly related to automobile sector. However, Maruti Suzuki has strong hold in the Indian market and the company has ample cash to deal with any crisis. Maruti Suzuki management has not yet shared any ideas about reviving sales at its dealership network.