Lucid Air will be the first EV to integrate Dolby Atmos to offer immersive listening experience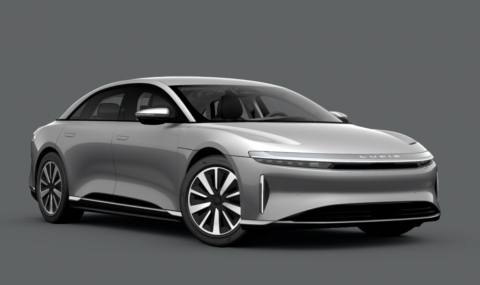 American automotive startup Lucid Motors Incorporated's electric car Lucid Air will be the world's first EV to feature a Dolby Atmos sound system, thanks to a freshly signed agreement between the two companies. Under the terms of the partnership deal, Dolby Laboratories will integrate surround sound technology Atmos in the Lucid Air's innovative multi-speaker Surreal Sound system. The EV's sound system will use a 12-channel, 7.1.4 Atmos configuration. The Lucid Air's Surreal Sound system consists of 21 speakers spread all over-- in the front, rear, side, and above.
All the speakers are optimally integrated and positioned within the interior of the EV. The integration of Atmos will provide the driver and other occupants of the Lucid Air with an immersive listening experience. Additionally, it will provide superior audio safety features.
The California, U.S.-based carmaker and Dolby Labs worked together, using Capitol Records Studio C recording studio as the reference design, to incorporate Atmos sound system into the upcoming EV. Then, the two companies ensured that the speaker system was then tuned to optimize the EV's interior space.
Tim Pryde, Director of Music at Dolby Laboratories, said, "As a company, we are fully committed to bringing immersive audio to all the ways in which music is enjoyed. Automotive is a natural extension for the incredible experience of music in Dolby Atmos, and we are excited to bring this to the world with Lucid."
The upcoming EV's Surreal Sound system will not only provide immersive listening experience but it will also bring enhanced safety features. For instance, the EV's notification beeps and warning dings will make use of directional audio to make the driver's attention concentrate where it is required. Warning sound for the occupant of an unbuckled seat belt will seem to come from the offending seat's direction. In simple words, if an occupant of the front seat forgets to use seatbelt, an audio warning will come from the unbuckled belt. Turn signals will come from the vehicle's indicated side. The sound system will also aid features like blind-spot alerts and park-distance sensors.
Dolby Atmos is a well-known feature in high-tech commercial or home movie theaters. It is a surround system technology that gives movies a 3D quality by allowing the sound to move about the room from any direction, independent of each other.