Infosys Q2 net up 28.6% to Rs 3,096 crore; revenues up 2.9%
Submitted by Satish Kumar on Fri, 10/10/2014 - 13:59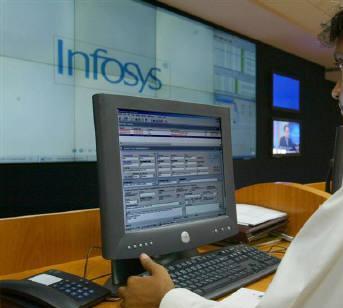 Bangalore: Beating market expectations, IT major Infosys on Friday posted 28.6 percent jump in consolidated net profit to Rs 3,096 crore for the quarter ended September 30.
The Bangalore-based firm had reported a net profit of Rs 2,407 crore in the year-ago period, it said in a BSE filing.
Consolidated revenue was up 2.9 percent to Rs 13,342 crore in the said quarter from Rs 12,965 crore in the year-ago period.
In the April-June quarter this fiscal, Infosys reported a net profit of Rs 2,886 crore and a revenue of Rs 12,770 crore.
Buoyed by a strong set of numbers, the company has declared an interim dividend of Rs 30 per equity share as compared to Rs 20 in the previous year.
It has also recommended a bonus issue of one equity share for every equity share held, and a bonus issue of a stock dividend of one American Depositary Share (ADS) for every ADS held, respectively.
The better-than-expected set of numbers pushed the company's stock up 5.61 percent to Rs 3,850.05 apiece in early trade on the BSE.
For FY15, the country's second-largest software services firm maintained its revenue guidance of 7-9 percent growth.
In dollar terms, the NYSE-listed firm's net profits grew 33.4 percent to USD 511 million in second quarter of this fiscal from USD 383 million in the year-ago period.--PTI
Technology Sector