Indian Rupee Inches Up Chasing Strong Asian Stocks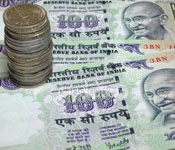 Mumbai: The rupee inched up today as profits in Asian stocks aroused expectations of abroad investment flows into local equities, though dealers stayed conservative regarding the fallout from U.S. credit market instability.
At 9:40 a.m, the partly convertible rupee stood at 41.07/08 per dollar, beefing up from yesterday's 41.08/09.
The chief dealer with a foreign bank stated, "There was some good dollar selling this morning, which may mean that investors are returning to the rupee."
The majority of Asian stocks climbed that lifted by anticipations of a U.S. interest rate cut to calm down unstable markets.
In contrast, local traders alleged they would observe the stock market strongly for direction on the rupee, after the stock index came down 3 per cent in the preceding session on local political worries.
In the existing year, foreign investments into local equities have been a prime driver of the rupee's power, assisting it adding up about 8 per cent to be Asia's best performing currency against the dollar.
Foreign funds have traded over $2 billion in the recent month that has stimulated the rupee to shift from its nine-year peak of 40.20 hit in July.