India, China Should Build Synergies – Sunil Kant Munjal
Submitted by Rajvir Khanna on Sat, 08/25/2007 - 22:53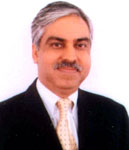 New Delhi: Sunil Kant Munjal, Hero Corporate Services Chairman said instead of being wary of each others development, India and China should fabricate synergies to develop with each other.
"We should not be wary of China's progress, but should build synergies and connectivity, wherein the progress is shared between the two countries," Mr. Munjal said at industry meeting room PHDCCI's CEO lecture series.
India Inc. requires making sure that deprived populace is also a branch of the country's development to avoid political and social backlash, he added.
"Social awareness and affirmative action by India Inc. are not only an expression of corporate social responsibility, but also an articulation of the enlightened self-interest since distributive justice is the cornerstone of societal progress," he also said.
India is not only attracting lots of foreign direct investment (FDI), but has also turn into a key investor in various countries including Britain and Singapore.