Golfer Woods will be back fitter, stronger and hungrier than ever, says pal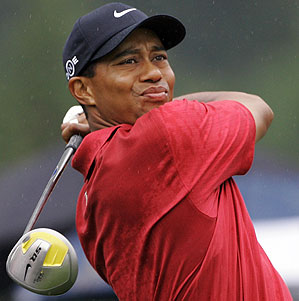 London, Jan. 31: Golf champion Tiger Woods will will come back fitter, stronger and hungrier than ever, his close pal Mark O'Meara has warned warned the golfing world.
Woods, 33, has not played a competitive round since he underwent a knee reconstruction after winning his 14th Major at the US Open in June, and former Open and Masters champion O'Meara said: "I played a few rounds with him two weeks ago and I can tell you this - he's good to go."
"His knee is much stronger than it has been for a number of years and it is obviously not preying on his mind at all. His long game was a bit rusty, as you might expect. But his short game was as sharp as ever. He has been able to spend plenty of time practising the short stuff for quite a while now and, of course, he's also used the spare time to build up his fitness," The Sun quoted him as saying further.
"Being off the course also seems to have sharpened his appetite, which was always pretty keen anyway! Tiger missed two Majors and the Ryder Cup while he was recuperating and he cannot wait to get back playing those big events," he said.
Woods is being tipped to return to action at the Accenture World Match Play Championship in Arizona, which starts on February 25. He is the defending champion - and retaining his crown would be the stiffest possible test of his recovery, as it would involve playing seven rounds in five days. (ANI)