Germany calls for end to border dispute of Slovenia and Croatia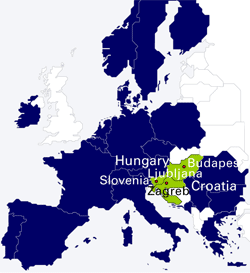 Berlin - Germany hopes for a solution to the border dispute between Slovenia and Croatia, to enable Croatia to join NATO and the European Union (EU), German Foreign Minister Frank-Walter Steinmeier said Friday.
After a meeting in Berlin with his Slovenian counterpart Samuel Zbogar, Steinmeier referred to the offers made by EU Commissioner Olli Rehn and former Finnish president Martti Ahtisaari to mediate in the dispute over a bay on the Adriatic coast.
Slovenia and Croatioa should approach each other with a constructive and flexible mindset, Steinmeier said.
Zbogar announced that Slovenian Prime Minister Borut Pahor planned to visit Berlin in March.
The Slovenian foreign minister said relations to Germany were excellent, adding that Germany was an important partner.
Zbogar said his discussions with Steinmeier were open and friendly. (dpa)