Georgia Tech researchers develop "Sun Dial" mobile application specifically for Muslims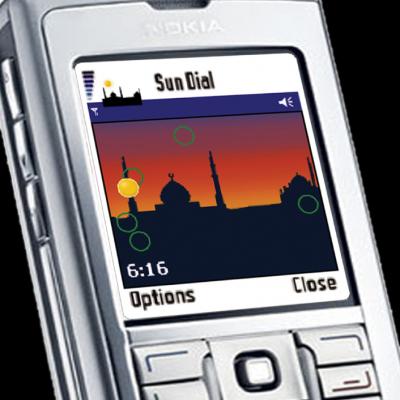 It certainly is good news for Muslim brothers; they can now have a new mobile phone application that helps alert them at the time of their daily prayers. Well, the US researchers from the Georgia Institute of Technology have developed the new mobile application specifically for Muslim brothers.
The new mobile application, called Sun Dial tells Muslim brothers when its time for their prayers. On the mobile phone screen, the Sun Dial system displays Sun's image lining up with a green circle, along with audible alarm, to indicate the time of Muslim prayer; when sun's image on the Sun Dial system lines up with the circle, it signals the time for prayer for Muslim brothers.
Susan Wyche, the doctoral candidate in the College of Computing and GVU Center at Georgia Institute of Technology, who led the team of researchers who developed "Sun Dial," stated that Sun Dial is specifically focused on Islam because it is one of the most popular religions in the world. She explained that there are historic evidences that Muslims have used the devices, such as compasses and telescopes, to find the right direction to face during their prayers. She elaborated that Sun Dial alerts when the time to pray is approaching. She said, "When the sun lines up with the circle, it's time to pray."
Wyche said, "Unlike similar systems, ours relies on graphics rather than text and graphs to communicate prayer times. Users drove this choice by telling us that tracking the sun was the most religiously valued method to determine prayer times. Sun Dial provided more than functionality or a prompt to the prayer times; it also contributed to users' religious experience by reminding them they were part of a larger community. More broadly, carefully considering imagery is important when developing mobile phone applications, particularly ones that support personal and emotional activities, which may be sacred or secular."
First, trying out their new mobile application with Muslims from Georgia Tech and the greater Atlanta area for two weeks to get their favorable reaction, Susan and her team is presently working to bring some design changes, like a digital clock and a vibration alert in the application, before offering the application for download finally.
"We have to understand religion because it's such a central part of peoples lives. Efficiency and productivity tend to be driving forces when designing technology for offices, but these are not as central when designing applications for the home or religious settings. Why would you design a device that makes someone pray faster?"
The team of researchers, who developed Sun Dial mobile app, including Susan Wyche, Associate Professor Beki Grinter, doctoral candidates Kelly Caine, Benjamin Davison, and Michael Arteaga, have presented their invention at the human-computer interaction conference, CHI, in Boston, where the new mobile app is being discussed this week.
Salah, the formal prayer of Islam, is performed five times a day by an obedient Muslim. The prayer are performed at dawn, noon, afternoon, sunset and nightfall; these are compulsory prayers for true Muslims, and it's sin to miss any one of these prayers. Sun Dial is a nice application to save Muslim brothers from sin of missing any prayer, but it's yet see, how fundamentalist Muslims react to the use of the application, or even the mobile phone for alerting them for prayers.