Fresh snowfall disrupts road traffic in Himachal Pradesh
Shimla, Feb 5: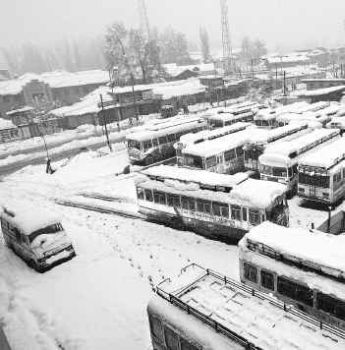 Fresh snowfall led to road blockade in Himachal Pradesh disrupting transport service in the hilly state and causing inconvenience to residents and tourists alike.
Heavy snowfall in the upper reaches like Narkanda, Kharapathar, Shimla, Rohru, Kinnaur, Pangi, Sirmour and Chamba has led to road blockade, paralysing normal life.
Inter-city state-run bus services were suspended as a precautionary measure to avert mishaps on roads winding their way through the slippery tract.
"If we start the bus service during snowfall, there are chances of mishap. So to avoid that we are taking care to stop all bus services as a precautionary measure. As soon as the snow melts and roads are cleared, the bus service will resume," said Kishan Kapoor, state Road and Transport Minister.
Commuting has become a major problem for the residents.
"There are no buses because of the snowfall in Kufri and Phagu. We are facing a lot of problems and will have to see what to do," said Shobha Ram, a resident.
The fresh spell of snow in Himachal Pradesh has brought cheers to the tourists.
"We arrived here before heavy snowfall so we don't have to face transportation problem. Many people were having so much fun due to snowfall," said Anita, a Malaysian tourist.
Shimla recorded around 12 centimeters of snow while the tourist resorts of Kufri and Narkanda received around two feet of snowfall.
Uttarakhand and Jammu and Kashmir have also experienced snowfall. (ANI)