Elephant kills one, injures 19 at Kochi''s Ernakulam Shiva Temple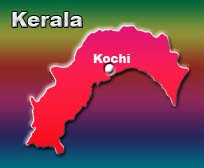 Kochi (Kerala), Feb. 6 : At least one woman was killed and 19 others injured when one of the seven elephants, brought to the Ernakulam Shiva Temple as part of the eight-day temple festival, ran amok on Thursday.
The elephant named Techikode Ramachandran, a famous male tusker of Kerala was brought from the Thrissur district to Ernakulam Shiva temple for the festival.
The incident took place on the last day when in the morning at around 9.30 am before being taken to perform rituals, the pachyderm ran amok at the temple premises, killing a woman and injuring others. Soon, it was brought under control and chained.
Some of the injured persons were rushed to the nearby hospitals, though two of them are stated to be in serious condition.
The reason for the accident could not be known, but sources said, that during the morning rituals Shiveli, who was inside the Shiva Temple, was hit by some sharp point in the eye and it went running uncontrolled towards the crowd.
"I was worshiping inside the temple. Suddenly, I saw it running towards the mob and one lady was standing and praying when it crushed her, said Mohanan K. G, one of the injured at the Ernakulam General Hospital.
The District Collector Dr. M. Beena, who came to take the stock of the situation at the General hospital said that the reason was not clear but it would be out soon following an inquiry.
The government, in accordance with the High Court of Kerala, has laid out strict guidelines for captive elephants to follow while being taken out in a procession and the necessary medication during the entire festival days. (ANI)