ECB to keep rates on hold as it revises up inflation forecast
Frankfurt  -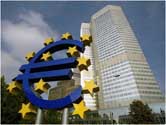 The European Central Bank meets Thursday with surging inflation expected to result in the ECB leaving rates on hold at 4.0 per cent for the 12th month in a row.
At the same time, ECB chief Jean-Claude Trichet is expected to set out the bank's so-called staff projections which are likely to include an upward revision in the bank's inflation forecast.
Indeed, the ECB this week marked the 10th anniversary of its founding caught between a rock and a hard place with inflation fears emerging amid signs that economic growth is losing its momentum.
But with data released last week showing inflation in the 15- member eurozone jumping to a 16-year high of 3.6 per cent in May, Trichet is likely to also warn again at his press conference about the threat posed by resurgent inflation.
This is despite oil prices recently pulling back dramatically from the record 135.09 dollars a barrel they hit last month.
As a result, most analysts have abandoned previous forecasts of an ECB push to trim its benchmark refinancing rate this year and are now expecting the Frankfurt-based bank to sit tight on monetary policy into 2009.
The May rise in consumer prices helped to drive inflation further away from the ECB's target of keeping inflation close to but just below 2 per cent, which also lies at the heart of its prime objective for price stability.
Some economists are predicting that eurozone inflation will continue edging up towards 4.0 per cent in the coming months. (dpa)