Details of ASUS EeePC 1000HE revealed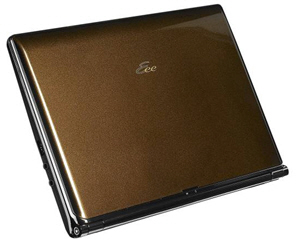 ASUS has come out with the latest Eee PC 1000HE that would provide the users with a revamped chicklet style keyboard and the new Intel Atom N280 processor. Though the exterior and interior look is quite familiar to the 1000HA and 901, it could be said that if the users liked the old style; they will definitely love this one.
It should be noted that in the new Eee PC 1000HE, battery life has been extended to 9.5 hour. The credit for longer battery uptime goes to 30% larger battery and improved power management.
Here are some of the specifications of ASUS Eee PC 1000HE:-
   
•    Intel Atom N280 1.66GHz processor
•    160GB 5400 RPM Hard Drive (Seagate 5400.5)
•    1GB of DDR2 RAM (667MHz)
•    10" WSVGA LED-Backlit 1024 x 600 LCD
•    Ports: 3 USB 2.0, 1 VGA monitor out, headphone jack, microphone input, SD card reader (SDHC compatible), Kensington lock slot, Ethernet 10/100
•    Webcam (1.3 MP)
•    Battery: 7.2v 8700mAh 6-cell 63Wh battery
•    Wireless: 802.11b/g/n  and Bluetooth 2.0
•    One-year warranty
•    Size: 10.47" x 7.3" x 1.12-1.50"
•    Weight: 3lbs 2.4oz, 3lbs 9.9oz travel
•    Windows XP Home operating system with SP3
•    Price: $399 ($374 with $25 preorder discount)
The latest by Asus carries the same outside look as of the 901 and 1000HA, and you won't be able to find any difference until you view the bottom or open up the display.
Once you open the netbook, you will find a glossy keyboard that looks harmonized with rest of the glossy body, with the same gloss black paint used between all of the keys. If compared with the former Eee PC models, the new one really adds another level of class and style to this netbook.
The users will also find the 10" LED-backlit display on the Eee PC 1000HE quite easy on the eyes and a real treat to view for hours on end.