David Thomson, Jospeh Tsai and Galen Weston Lead the Richest People in Canada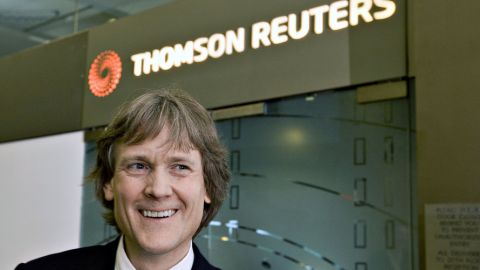 David Thomson is the richest Canadian with net-worth of $39 billion. Thomson is the chairman of Thomson Reuters and his company, founded by his grandfather Roy Thomson has been doing well in the recent years. Thomson also has major stake in Bell Canada.
Thomson is followed by Jospeh Tsai, vice-chairman of Chinese e-commerce giant Alibaba Group. Jospeh Tsai has networth of $10 billion. However, as Alibaba group witnesses wide fluctuations in the stock market, his net worth changes quite often.
British Canadian businessman Galen Weston follows at third position with average net worth of $9 billion. Canadian food processing and distribution company George Weston is leading the food segment in Canada and is behind the wealth of Galen Weston.
Other notable mentions in the richest Canadians list are
David Cheriton: $6.5 billion David Ross Cheriton is a Canadian computer scientist, mathematician, businessman, philanthropist, and venture capitalist. He is a computer science professor at Stanford University, where he founded and leads the Distributed Systems Group.
James Irving: $6.2 billion James K. Irving, OC ONB is a Canadian billionaire businessman who is the eldest son of industrialist K.C. Irving. With an estimated net worth of US$6.9 billion, Irving was ranked by Forbes as the 4th richest person in Canada.
Jim Pattison: $5.6 billion James Allen Pattison, OC OBC is a Canadian business magnate, investor and philanthropist. He is based in Vancouver, British Columbia, where he holds the position of chief executive officer, chairman.
Huang Chulong: $5.6 billion Huang Chulong chairs Galaxy Group, a privately held business based in the southern Chinese city of Shenzhen. Huang's business interests span hotels, shopping malls, office leasing, parking-lot operation and real estate development.
Emanuele Saputo: $5.1 billion Emanuele "Lino" Saputo, CM OQ is an Italian-Canadian billionaire businessman. He is the founder of the Canadian cheese manufacturer Saputo Inc. According to Forbes, he is the 8th richest person in Canada and the 339th richest person in the world, with an estimated net worth of US$5.2 billion as of February 2020.
Chip Wilson: $4.6 billion Dennis J. "Chip" Wilson is a Canadian billionaire businessman and philanthropist, who has founded several retail apparel companies, most notably yoga-inspired athletic apparel company Lululemon Athletica Inc. Wilson is widely considered to be the creator of the athleisure trend.
Mark Scheinberg: $4.5 billion Mark Scheinberg is an Israeli-Canadian businessman and investor with investments in various sectors including real estate and luxury hospitality. He is the co-founder and former co-owner of the online gambling company PokerStars, which was sold in 2014 to Amaya Gaming for $4.9 billion.
Alain Bouchard: $4.1 billion Alain Bouchard OC OQ is a Canadian billionaire businessman. He is co-founder and chairman of Alimentation Couche-Tard, and also serves on the board of directors of Atrium Innovations. Both corporations are based in Quebec.
Peter Gilgan: $4 billion Peter Gilgan has built houses for some 90,000 homeowners since founding Mattamy Homes in 1978. Gilgan, who grew up as one of seven children in a middle class family, worked as an accountant before going into building.
Arthur Irving: $3.5 billion Arthur L. Irving, OC ONB is a Canadian billionaire businessman, the second son of industrialist K.C. Irving. He is the sole owner, through the Arthur Irving Family Trust, of Irving Oil Ltd.
Daryl Katz: $3.1 billion Daryl Allan Katz is a Canadian billionaire businessman and philanthropist. Katz is founder and chairman of the Katz Group of Companies, one of Canada's largest privately owned enterprises, with pharmacy, sports & entertainment, and real estate development businesses.
Bob Gaglardi: $3 billion Bob Gaglardi founded Northland Properties, which has interests in hotels, restaurants, sports, and construction. Gaglardi launched the business in 1963 with a $5,000 loan, opening his first Sandman Inn hotel four years later in British Columbia.
Tobi Lutke: $2.9 billion Tobias "Tobi" Lütke is a German-born Canadian billionaire entrepreneur, and the founder and CEO of Shopify, a company based in Ottawa, Canada. He has been part of the core team of the Ruby on Rails framework and has created open source libraries such as Active Merchant.
Garrett Camp: $2.7 billion Garrett Camp is a Canadian billionaire entrepreneur, product designer and investor. He has helped build a series of companies, including founding Expa, a startup studio that works with founders to develop and launch new products, co-founding Uber, a transportation network company,[5] and founding StumbleUpon, a web-discovery platform.
Robert Miller: $2.7 billion Robert Miller (born July 1943), is a Canadian billionaire businessman who founded Future Electronics in 1968, and built it into the world's third-largest electronics distributor.
Mitchell Goldhar: $2.7 billion Mitchell Goldhar is a Canadian billionaire and businessman. He owned SmartCentres, a firm that developed Walmart-anchored shopping malls in Canada, and retains a significant ownership stake in its successor firm SmartCentres REIT. Since August 2009, he is also the owner of the Maccabi Tel Aviv soccer club.
Lawrence Stroll: $2.6 billion Lawrence Sheldon Strulovitch, best known as Lawrence Stroll, is a Canadian billionaire businessman, part-owner of the Racing Point F1 Team and collector of vintage Ferraris.
Jean Coutu: $2.5 billion Jean Coutu, OC OQ is a Canadian pharmacist and businessman. He is the founder and Chairman of the Jean Coutu Group which he started in 1969.
Michael Lee-Chin: $2.4 billion Michael Lee-Chin, OJ, OOnt, is a Jamaican-Canadian business magnate, investor and philanthropist who serves as the Chairman and CEO of Portland Holdings Inc., a privately held investment holding company headquartered in Ontario, Canada.
Carlo Fidani: $2.3 billion Carlo Fidani is a Canadian business executive and philanthropist from Toronto, Ontario. He serves as chairman of the Orlando Corporation, a Mississauga-based real estate company with interests in construction and development, and property leasing and management. Fidani is also president of the Carlo Fidani Foundation.
Serge Godin: $2.3 billion Serge Godin is the Founder and Executive Chairman of the Board of CGI. Under Mr. Godin's leadership, CGI has grown into one of the largest independent information technology and business consulting services firms in the world.
Charles Bronfman: $2.2 billion Charles Bronfman, PC CC is a Canadian-American businessman and philanthropist and is a member of the Canadian Jewish Bronfman family.
Jacques D'Amours: $2.1 billion Jacques D'Amours is a Canadian billionaire businessman, and a director and co-founder of the convenience store chain Couche-Tard.
Pierre Karl Péladeau: $1.8 billion Pierre Karl Péladeau, also known by his initials PKP, is a Canadian businessman, billionaire and former politician. He was also the MNA for Saint-Jérôme. Péladeau is the president and CEO of Quebecor Inc., Quebecor Media Inc. He used to own Sun Media Corporation.
Stephen Smith: $1.8 billion Stephen Anthony Smith is an American sports television personality, sports radio host, sports journalist, and actor. Smith is a commentator on ESPN's First Take, where he appears with Max Kellerman and Molly Qerim.
Marcel Adams: $1.7 billion Marcel Adams is a Canadian real estate investor, billionaire, and Holocaust survivor.
Stephen Jarislowsky: $1.6 billion Stephen A. Jarislowsky, CC GOQ is a Canadian business magnate, investor, and philanthropist. He is the Founder, Chairman and CEO of Jarislowsky Fraser Limited, which he built into one of the largest and most successful investment management firms in Canada, with over C$40 billion in assets under management.
Hal Jackman: $1.6 billion Henry Newton Rowell Jackman, OC OOnt CD is a Canadian businessman who served as the 25th Lieutenant Governor of Ontario from 1991 to 1997. He is the son of former Member of Parliament Harry Jackman and philanthropist Mary Rowell Jackman.
Gerald Schwartz: $1.6 billion Gerald W. Schwartz, OC is the founder, chairman and CEO of Onex Corporation. Schwartz has a net worth of US$1.6 billion, according to Forbes.
Mark Leonard: $1.5 billion Mark Leonard is a British political scientist, and author. He is the director of the European Council on Foreign Relations which he founded in 2007. He is the son of Dick Leonard, the writer and journalist, and Irène Heidelberger-Leonard, a professor of German literature.
N. Murray Edwards: $1.4 billion Norman Murray Edwards CM is a Canadian oil sands financier and a co-owner of the Calgary Flames hockey team. With an estimated net worth of $US 1.5 billion, Edwards was ranked by Forbes as the 32nd wealthiest Canadian and 1511th in the world.
Bruce Flatt: $1.4 billion Bruce Flatt is the CEO of Brookfield Asset Management, a Canadian alternative asset manager with over $330 billion in assets under management. His focus on buying quality assets at value prices has earned him comparisons with Warren Buffett.
Brandt Louie: $1.4 billion Brandt Channing Louie OBC is a Canadian accountant and businessman. He is the President and CEO of H.Y. Louie Co. Limited, and Chairman of London Drugs Limited.
Peter Szulczewski: $1.4 billion Peter Szulczewski is currently the CEO of ContextLogic and previously a coder at Google, Microsoft, ATI, and Nvidia.
K. Rai Sahi: $1.3 billion K. Rai Sahi is Chairman and Chief Executive Officer of Morguard Corporation, one of Canada's largest integrated real estate companies, and Chairman and Chief Executive Officer of ClubLink Enterprises Limited, Canada's largest owner and operator of member golf clubs.
Jack Cockwell: $1.3 billion A South African native and trained accountant, Jack Cockwell is a famed dealmaker in Canada. From the 1970s through the early 1990s he built the Bronfmans' Edper conglomerate, acquiring massive holdings in real estate, forestry and mining.
Terence Matthews: $1.2 billion Sir Terence Hedley Matthews OC OBE FREng FIET is a Welsh-Canadian business magnate, serial high-tech entrepreneur, and Wales' first billionaire. He was the richest man in Wales until 2012, when he was surpassed by Sir Michael Moritz.