Caesarean birth make child more venerable to childhood asthma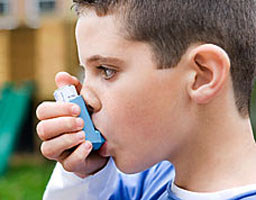 Recent research has shown that children born through caesarean section have 80 % more risk of developing childhood asthma as compared to children delivered naturally. Swiss researchers believe that that a natural birth could help to prime a child's immune system, making them more able to fight off illness whereas caesarean section possibly renders youngsters less able to combat common inflections, which scientists believe could act as a trigger for asthma.
The researchers, from Zurich children's hospital in Switzerland followed 3,000 children from birth till the age of eight years. During study, 362 of the children been diagnosed with asthma and had been prescribed inhaled steroids. 247 of the children, 8.5 per cent, had been born by Caesarean section. Analysis of data revealed that these children were almost 80 per cent more likely to have been diagnosed with asthma than those with a normal birth.
Data analysis also revealed that the offspring of parents who both suffered from allergies were even more likely to develop the condition if they were born by Caesarean section. Those children were almost three times as likely as other to develop the condition by the age of eight.
Researchers said that women planning a caesarean without a medical reason should be warned of the link.
They said, "In this situation the mother should be informed of the risk of asthma for her child, especially when the parents have a history of allergy or asthma."