Audi launches new sports line at Delhi Couture Week
Submitted by Dalbir Sahota on Sat, 08/03/2013 - 17:21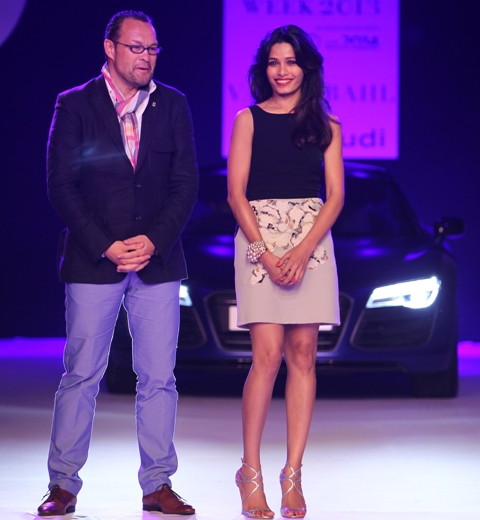 New Delhi, Aug 3 : German luxury car manufacturer Audi launched its new range of sports cars at the glitzy and glamorous Delhi Couture Week (DCW) here, with actress Freida Pinto adding jazz to the ramp.
The new car models were showcased as a kickstart to ace designer Varun Bahl's collection showcase on day three of the ongoing fashion extraganza Friday night.
"Slumdog Millionaire" actress Freida, who looked stunning in a fitted black and beige western dress, represented the luxury automobile brand along with Michael Perschke, head Audi India.
"Audi has a strong connection and competence in style and design worldwide, which is clearly stated by the successful models introduced by Audi over a period of time," said Perschke.
"Our new sporty line as part of the Audi 2014 autumn collection includes Audi R8 V10+, Audi RS 5, Audi S6 and Audi TT. These models not only underline our extraordinary expertise in design and lifestyle, but also clearly establishes us as a performance leader," Perschke added.
Audi's iconic cars are being showcased at the five-day event, which is being held at the Taj Palace hotel. DCW is being organised by the Fashion Design Council of India (FDCI). (IANS)